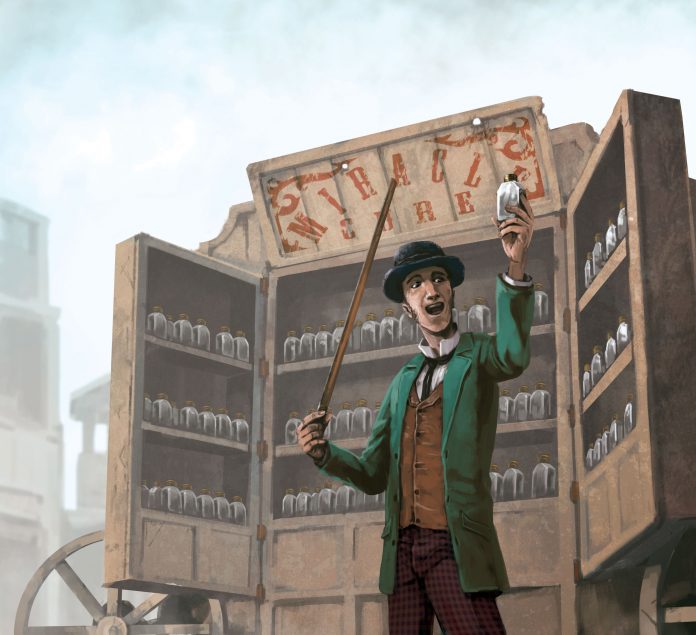 You there, sir! Yes, you! You have a worried look about you. What could possibly be troubling you, my good man? Come, come, over here now. Don't let the crowd fool you. This ain't a revival, just good ol' fashioned wonders.
See you got a spot of boils there. Bad news, that is … been seeing it all day.
How many kids do you have, eh? Three? Hand to heart, it's nearly impossible to keep those little 'uns safe. Must be making your hair fall out … but we'll get to that in a moment. Coughing already, are they? Shame, shame. Been goin' around something fierce from what I hear.
Well, what If I told you that I can protect you and your loved ones, all for little more than the price of a mint Julep? 'Madness,' you say! But look again, good sir: Scuttlesby's Miracle Tonic! Distilled through an incredible mix of far eastern phosphenes, lunules, and mountain orchids, filtered through a unique skeuomorph of my own design, this fantastic tonic guarantees a clear mind, sharpened senses, and a body free of any sickness, fever, or malady you care to name … and it'll even regrow that hair to boot! Don't be shy, take a whiff sir.
Smells like science, doesn't it? I could tell you were a perceptive man the moment I set eyes on you. That's why I'll offer you a deal like no other. This very day, a one time only offer, you can supply your whole family with Scuttlesby's perfected, proven, and patented panacea.
Boils? Thing of the past.
Itchy rash? A mere memory.
And best of all, take care of those poor little children's coughin' and wheezin' the whole day through.
Does it truly? Good people, would I stand here — a proud man, with knowledge gleaned from mystical medicinal masters from the Far East — and lie to you? Why would I, when it's simply a matter of unique design working in cadence with the body's natural equilibrium through correcting all negative bio-conductive influences? Elementary science!
Dabney Scuttlesby's a man of his word. You'll never feel better. Guaranteed results, on my dear grandmother's life.
Three bottles sir? Of course. And one for you my lady? Absolutely, though not even I can improve on that lovely face … medicine can only go so far, am I right gentlemen?
And why not celebrate with a trip to the circus? Tickets to see the marvels of those fine souls at the Fourth Ring, courtesy of yours truly. That'll brighten the kids up quick smart, let me tell you. No, no, don't thank me, I'm just a man doing his service to the fine folks of Gomorra.
A wise purchase! Let your family know miracles are on their side.
You sir! Yes, you with the limp! What would you say if I told you I could take all that pain away, for barely more than the price of a plate of bacon? Come on over, let Dabney take care of you.